Kekeran Busung Biu Rice Terrace is probably not as popular as Jatiluwih and Tegalalang rice terrace . But this place offer the hidden beautify of stunning view of Rice Terrace .
Kekeran Busung Rice Terrace is located in the northern part of Bali Island . Approximately 30 minutes drive from Munduk village , along the way to Pupuan district . From the south its probably take around 3 hours drive . The long distance drive from where the tourist live make this place very less  visitor .
On our way back from Lovina trip , the Sunrise Dolphin Tour . Our client requesting to add Rice Terrace for an additional place to visit before lunch . It was difficult choice if we must go to Jatiluwih rice terrace which is away from our tour direction . Than we decided to discover a new rice terrace view along the way . It's not difficult to find because Kekeran Rice Terrace is quite popular in the north .
After 30 minutes drive from Banjar Hot Spring , we arrive at the Kekeran rice terrace . Banjar Hot Spring is natural hot spring in the north . This place is apart of our Lovina Dolphin Program . We were amazed with spectacular rice terraces view bellow us . It's much more scenic than other touristy rice terrace in Bali . Big rice terrace stretching along the valley surrounded by mountains . With the river cut the terrace become two side .  All of this amazing view we can see from the high . Unlike other rice terrace that we could get close but here we will see from up hill .
Kekeran Busung Biu Rice Terrace also  quite popular for European tourists . For thus who love a country side part of Bali . but Even very spectacular sites but very less tourist coming here . Only few European and tourist who staying in the north . It's perfect place to stay away from tourist crowd , away from hustle and bustle tourism industry .No entrance require but only small coin for parking .
For sure we will recommend this place to our clients every time they have north program.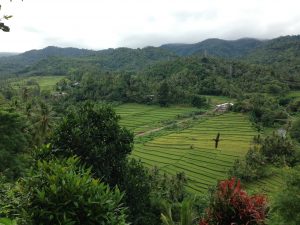 Social Share