Uluwatu Kecak Dance show is one of the most spectacular dance performance in Bali Island . One hour duration of traditional dance show by the villagers . The dace perform every 6pm on the open stage of Uluwatu cliff beside Uluwatu Temple . Its noble , incredible and spectacular dance to see indeed .
Bellow is the pictures of Uluwatu temple that you can explore before the dance start

Over 60 bare breast mans with his traditional dress entering the stage and sitting in a circle .  Start chanting " Cak – Cak – Cak " rhythmically , no instruments involved but only rhythmic sound from their own voice  . Inside the circle is a traditional dance perform telling  the story of great Ramayana Evict . This spectacular performance is Kecak and fire dance show by the local villagers of surrounding area . They perform the Kecak dance every day during the sunset time for tourist attraction .
Beautiful sunset and incredible landscape that you can explore before the dance start
Uluwatu Kecak dance is the most popular dance  and a must see dance in Bali Island . In the high season visitors are coming early in order to get the ticket and find a best place to seat . The stage are full even there are some of them still want to enter but the ticket are sold out . This is the common situation during the high season , especially local holiday season . Our domestic visitors is the biggest number of tourist i Bali island and watching Uluwatu Kecak dance is their bucket list .
Beside the interesting dance story , Uluwatu dance stage is build on the cliff of Uluwatu Temple . A special location surrounding by incredible view of Uluwatu cliff and Indian Ocean .Only few meters on the right side of the temple facing to the Indian ocean . It's a very special place , especially during the clear weather when the sun is setting over Indian ocean which is just in front of the stage .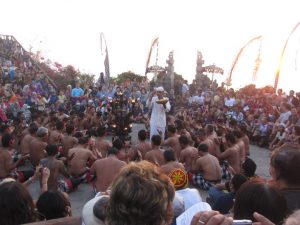 The story of Uluwatu Kecak Dance
Uluwatu Kecak Dance narrated story of Ramayana , the Hindu evict from Ramayana legend . The story begin when Rama the prince exiled in the forest due to family conflict in the Kingdom . He have to give his right to be a King to his younger brother Prince Barata . Even his brother don't want it but he have to follow his Mom , Ratu Kekayi wish . Ratu Kekayi is a step mother of Rama , the second wife of his father , the King . The King promise before married to Ratu Kekayi that he will give his throne to her son . As a good Son from the first King's wife  , Rama have to follow what his father promise . He don't want his father break his promise that course him fall into a sin .
This story actually start during his 12 years in the forest . Rama and his wife Sita accompany by his brother Laksamana . In the forest they live in a very poor life but love keeping them always together until Rahwana saw Prince Rama Wife . Rahwana is actually an opposite character , a king of evil . Rahwana saw the beautiful lady in the forest and falling in love with her . But he can't reach her because the lady is with her husband Prince Rama and his brother .
Rahwana start his trick by send his follower to turn become beautiful deer creature . This creature attract Dewi Sita and ask her husband to catch the deer . This is actually the purpose of Rahwana to be able to approach Sita without any protection from her husband . Rahwana King turn become a holly price to ask for a gift from the prices  , but once Dewi Sita getting out from the protection circle circle Rahwana Catch her and fly her away to his kingdom .
Protection circle is made by Rama and his brother Laksamana to protect Sita from any bad thing , she must not getting out from the circle .
On this part coming Jatayu bird trying to help Sita , he fight heroically but he defeated by Rahwana weapon . Jatayu bird than founded by Rama and tell that Dewi Sita Kidnapped by King Rahwana . In pursuit to seek his wife Prince Rama meet Hanuman the white monkey . He willing to help Rama to find his wife , than Prince Rama give his ring to be given to his wife whenever they meet . With his power he flying to Rahwana Kingdom and meet Princes Sita , making a disaster by burning the city of Alenka Rahwana Kingdom
 
This is actually the high point of the show , where Hanuman with his great acting play with fires . He also coming to the audience , playing with the tourist with his funny acting as a white monkey . The dance almost done with the last scene where the evil King killed by Prince Rama and the Prince meet with his lover , Prices Sita .
Social Share