Are you married ? Its a most important part of our life , one step to change all our life story .  But wedding will be a very stressful even for us isn't it . Need a lots of preparation such as preparing our house , invitation pepper , souvenir shopping and also pre wedding picture .Talking about Bali pre wedding photo  will be one of the interesting topic . Pre wedding is one of the must thing to do before wedding . Especially for all this age generation . Pre wedding picture day is a same important as wedding day . Will be a lots of preparation during pre wedding picture such as grooming , feting , hire photographer  and also choosing best place for picture shot .
Choosing the place for pre wedding pictures is one of the most important things to do . We are lucky enough were born in Bali Island . Our beautiful temple sites and amazing nature landscape could be a best place as our pre wedding . But since we are a living in a big tourism industry , some of the places are charging an entrance fees . Quite a lots actually for our local peoples standard . But for some peoples are worth for special memorable shot indeed .
Bali Pre Wedding Photo | Bali Private Driver
Here bellow some nice places for pre wedding photo shot  in Bali island :
A beautiful temple setting build on the western rim of Beratan Lake . This temple is an icon of Bali tourism . Beautiful scenery , lake and peaceful atmosphere made this place one of the most romantic place in Bali island . Cold and also beautiful landscape surround the place make this place a one of the favorite place to go indeed . See further here
Entrance fees : 60.000 / person
Pre wedding entrance : 500.000
Temple details here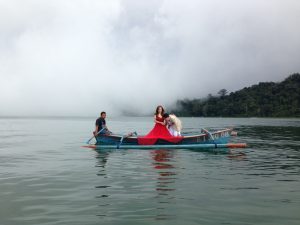 Another beautiful temple for wedding picture shot . The temple which is located in the south Bali about 40 minutes drive from airport  . Lies on the the cliff overlooking the Indian ocean . Beautiful place to see the sunset , therefore this place always busy during the sunset time . Therefor you have to chose a right place which is less peoples around you . See further details here
Entrance fees : 30.000 / person
Pre wedding entree : 1.000.000
See the details about the temple here
Saraswati Lotus palace
This palace also very famous for pre wedding picture shot . Private palace own by king of Ubud with beautiful Balinese architecture . In front if the palace gate  is beautiful large lotus pond . This place quite interesting to visit even during a normal day . To visit this place will not be an entrance fees but for pre wedding photo shot will be quite expensive than other place .
Entrance : no entrance fees
Pre wedding entrance : 1.500.000
Water Blow Nusa Dua
Not sure if this site are open for public already . Since few weeks ago this site are close for visitor due to accident happened . Water Blow is another place for great which is non Temple for pre wedding picture shot is in Nusa Dua . Quite popular among the tourist and local peoples for  Bali  pre wedding photo shot . Must come at the right time to get the splash sea water hits rock as the back ground .
Entrance : No entrance
Pre wedding entrance : 250.000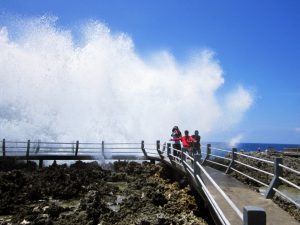 Selection of best Bali Pre Wedding Photo shot places
Its a hidden gem located the east Bali . Beautiful hidden waterfall with rocky cliff view surround the waterfall . Not really famous yet , but doesn't mean is less beautiful . For me this is the best place for Bali pre wedding photo shot if looking for great nature back ground . See further details about this place here .
Entrance : donation
Pre wedding charge : Donation
My pre wedding picture place / Jagatnatha Temple Jemberana
We married 6 years ago and all did our cheap pre wedding picture . We are local with small budget , we can't afford to pay the entrance in expensive place as explained above .  We do near our house in the west in one of the biggest Temple . No entrance , no charge for pre wedding pictures but we got amazing pictures shot . This temple is located right in the center of west region . Beautiful architecture and perfect for our cheap pre wedding picture .
Location : Jagatnatha Temple
Address  : Jemberana region , 3 hours drive from Denpasar .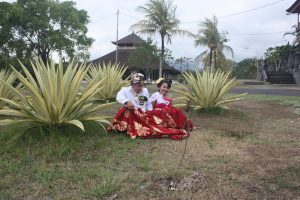 Definitely a new site trend for local tourist in Bali Island . This place use to be just a stop over a place . Wanagiri Village  in the highland of Bali island with great view of twin lake Tamblingan and Beratan . With a clever idea from the local villagers made this place not only stopping place but one of the top destination for great photo shot . This could be one of the best and romantic place for Bali Pre wedding picture shot indeed . Please find here for further details
Location : Bedugul highland , 2 hours drive from Bali airport
Entrance : 30.000 / person
Beside all the places above there are many more beautiful places around Bali for your memorable pictures shot . Its depending on your preference where you would like to go for it . Cultural places , nature landscape and also some historical sites around Bali .
Social Share