Medewi Beach perhaps not as popular Kuta Beach or other beach in south Bali . My be due to the distance from tourist city make Medewi beach less popular for tourist . But however this beach is quite popular among the surfer .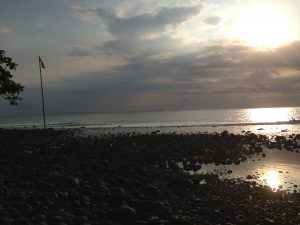 Talking about beach in Bali , we might will always  say Kuta beach ,Nusa Dua or other popular beach . But actually far in the west where there's not much tourist there except local of few surfers . The name is Medewi Beach , approximately 80 kilometers to the west from Bali international airport. If drive by car will be around 3 hours through busy main street.
Driving toward Medewi Beach is a long drive toward west . Busy traffic unconditionally , because the road in a main province street . There a lot of big buses ,heavy truck and very hard to overtake . But disregard the traffic , you will drive along south coast with beautiful rice terrace , local villages and forest . Also drive along coconut farm by the beach side when you reach at the west region .
As soon as you enter the west region you will drive along south coast of the west . Nice area with black sand beach of Indian ocean , coconut threes farm by the beach side as well as the rice paddies .It's real unexplored and unspoiled area indeed . Approximately 20 minutes drive from west region border , you will arrive at Medewi Village . There will be a few sign of accommodations , home stays also bungalows . To reach to the beach you need to enter approximately 100 meters from the main road toward beach side . There are few hotels as well as restaurants , but its look very quite .
Medewi Beach blessed by long surge wave , wonderful beach for surfing adventure . For long time Medewi Beach is famous for best surfing spot for local as well as for foreign surfers . In additional Medewi beach is peaceful area , quite and beautiful sunset view that we can see from shore .
Our Galih Bali Tour propose you a reasonable rate to Medewi transfer from airport .
Contact us :

Email : madeadayasa@yahoo.com

Phone / Whatssap : +62 87 862 331 691

Website : Galih Bali Tour
Social Share