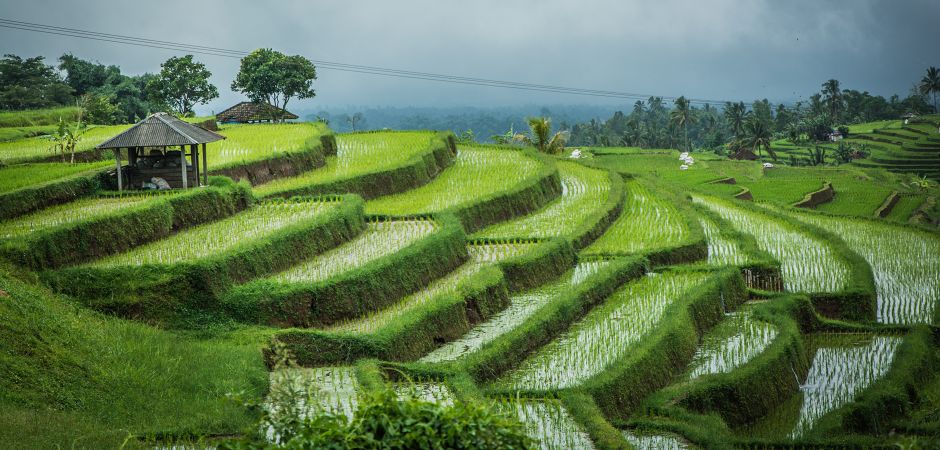 Ababi Tirta Gangga Rice Terrace is probably not in anywhere list among the Bali sites . But this would be another great consideration to visit . A quite large rice terrace on the slope of Lempuyang hill and just 5 minutes drive from Tirta Gangga . Tirta Gangga is the world famous site in the east especially for the European visitors .
Ababi Tirta Gangga Rice Terrace is just another great stop for taking picture . The strategic location in the east along the main road to Amed from Tirta Gangga . This rice terrace lies in Ababi village , just 5 minutes drive from Tirta Gangga toward Amed direction . As another rice terrace , its just a rice terrace but the panorama behind this great landscape is amazing . In the east we can see the Lempuyang hill and to the south we could see the ocean . Facing to northwest we will see the Agung volcano , the highest active volcano in Bali island .
Ababi Tirta Gangga Rice Terrace would be a great short stop during your trip to east Bali . perfect additional place to complete your Bali Tour Program . East Bali is known as a fantastic country side landscape . In addition east is a paradise for water activity such as Bali diving and snorkeling , other than that east also has some beautiful beaches .
One of them is white sand beach , virgin beach . The beach located just 10 minutes drive from Candidasa village . Beautiful white sand beach surrounded by cliff in the eastern side and west side . In the northern side of the beach is a coconut farm . Other than beaches and great landscape , east also a place for some historical and ancient sites . Some of them even as the icon for Bali Tourism , this sites such as Ujung garden and also Tirta Gangga Water Place .
So it could be great additional stop in the east to complete your day . Ababi Tirta Gangga Rice Terrace will be a perfect choice for your additional stop during your tour in East Bali .
See also :
Social Share