Bali 3 days Tour is our great experience with our clients from Philippine . There are Mike , Cristin , Kokak and Eilen our Philippine's clients  who visit our island .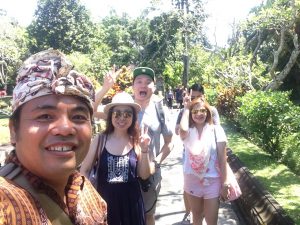 Our Bali 3 days Tour start from their arrival time in Bali . We meet them morning at 8 am as soon they touch down in Bali island . From airport we drive direct to Blue point beach for breakfast and enjoy the beach . Blue point beach is a surfing beach with beautiful white sand beach and cliff view .
Second place we visit Uluwatu Temple . Approximately around 15 minutes drive from Blue Point beach . Uluwatu Temple is one of tourist icon in south Bali . An ancient Temple with incredible view of the cliff facing into Indian ocean . This place also the habitat if 1000 monkeys population . And than after the temple we drive to the Hotel for check in and end the trip .
Uluwatu Temple
The Temple on the cliff of southern Paninsula . Beautiful Temple built around 11 century by Mpu Kuturan , during his holly journey to Bali island . He was sent to unite all the Hindu sect in one concept of Tri Murti . The concept of three God manifestation as a God of creator , protector and God of death .
Bedugul Tour our second day Bali Tour
Second day of our Bali 3 days Tour is to explore northern part of Bali . Start from Mengwi Temple , Jatiluwih green Land , Ulun Danu Temple and end the trip at Tanah Lot Temple . It was another interesting days even we were a little bit worried with the weather . Morning were great and sunny but it was turn quickly become cloudy and raining at Bedugul area . Fortunately the weather were great when we reach at Tanah Lot Temple and they can see the sunset view from Tanah Lot Temple .

Mengwi Temple
The temple well known as the royal king Mengwi family temple or Taman Ayun . A beautiful temple's setting surrounded by wide moat and beautiful garden . It was a wonderful place and beautiful day to start the trip .
Jatiluwih Greenland
Second we were here . The village that recently awarded as one of word heritage site by UNESCO . Jatiluwih drive from word Jati and Luwih , which is mean really good . Yes is very beautiful village and amazing landscape indeed . See more here
Ulun Danu Temple
All the tourist who visit Bali must know this place . Ulun Danu Temple is a main tourist icon in the heart of Bali . The beauty of this is one of the top destination in Bali . The temple with stunning view of Beratan Lake and surrounded by mountains . With cold romantic weather made this place very special for local also international tourists .
Tanah Lot Temple
Last place we visit is Tanah Lot Temple . The temple which is very popular with its sunset view .Tanah Lot Temple drive from words Tanah and Laut which is mean land in the sea . Beautiful small temple lies on the small rock separated from the main land . The second day was also an interesting and wonderful day indeed . See more here
Ubud Tour our third day Bali tour
Third day is the last day of our Bali 3 days Tour program . As usual we start from 9 am from the Hotel . There was another interesting day to explore Ubud and also surrounding areas . Some places that we visit including Bali coffee farm , Elephant cave Temple , lunch at Dirty duck dinner and also Holly Spring Temple . The weather were great and sunny a whole day . It was just a little rain when we reach at Holly Spring Temple .
Bali Coffee Farm
First place that we visit on our last day of Bali 3 days Tour  is coffee farm . We visit one of the local farm near Ubud area to see how they grow and processes the coffee bean become a glass of coffee . Also here we see the Luwak , civet cat who produce the most expensive coffee in the worlds . In addition  our clients also served a various of coffee and tea  for free testing .
Elephant Cave Temple
An 11 century temple which is located near Ubud town . Elephant Cave Temple or also known as Gowa Gajah Temple . The unique f this temple is where there's a quite big cave where inside as a place to worship the God on his manifestation . The area of the temple is quite big area including the Buddhist temple complex by the river . Its really amazing ancient site indeed .
Holly Spring Temple
After luch at Bebek Bengil we visited the Holly Spring temple . The third site and also the last place before heading back to the Hotel . Holly spring is a temple where there's a large spring water inside the temple . This water flow to the pool through artificial shower . In this pool where peoples come from all over Bali and around the world to do a purification ritual . 
Bali 3 days Tour
It was my honor to welcome and also to show you our island . Wish to see you again in the near future to welcome you again and show you more about our island .
Social Share