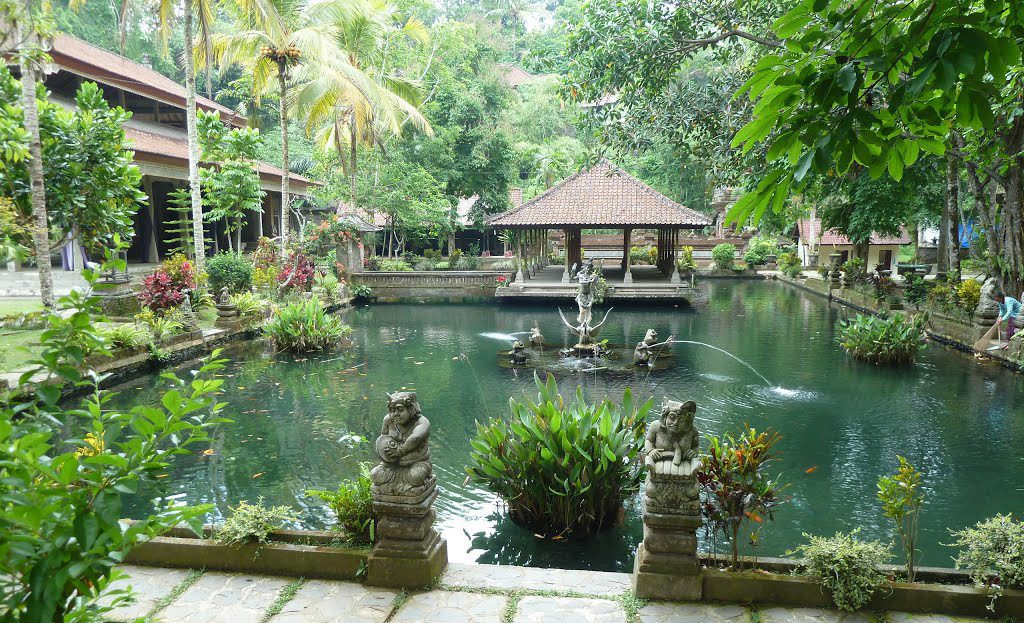 Gunung Kawi Sebatu Temple located in Sebatu Village . Approximately 1 hour drive from Ubud . 20 minutes drive from Tegallalang Rice Terrace , the most visited rice terrace in Bali . Approximately 55 kilometers from Denpasar the capital city . This site is easy to reach with any kind of vehicle at the main road between Ubud and Kintamani volcano area .
Entering to the Temple you will need to walk down an easy stairs . Outer yard of the Temple is the biggest yard . In this outer yard there's a big gazebo surrounding by big fish pond with amazing number and size of fresh water fish . Beside the Temple in the West side of the main gate there are two small pool with traditional stone showers . The pools used for purification ritual for Hindu believer in Bali . The holly water is coming from spring water beside the main yard . There's big water source with small shrine in the middle of the pool . When we enter the main gate there is smaller yard of the main yard of the Temple with few shrine . There are few different shrine to worship a different God manifestation. In the middle there's a big Shrine called Padmasana dedicated to Lord Visnu .
Gunung Kawi Sebatu Temple Tour here !
The temple were built around 11 century during the ruled of Udayana Kingdom . Other story of this Temple is related to the Maharishi Markandya . The first holly priest who come to Bali with the Hindu concept and philosophy . He used the place as a stopover place and meditations during his holly journey.
A peaceful feeling we feel when we enter the temple . Sound of nature , gurgling sound from the natural showers made this place is special . Spend you time to sit down and feel the quietness , close your eyes and listen to the sound of nature . This place really offer a great healing atmospheres by quietness and religious environments.
We are require to wear traditional Balinese cloths ( Sarong ) to enter to the Temple which is provided at the entrance gate and small amount of entrance fee .
Social Share